Patient Home Care Services in Combatore
Welcome to Anbu Sri Sai Home Health Care, your trusted source for comprehensive Patient Home Care Services in Coimbatore. Our mission is to deliver compassionate and professional healthcare services directly to your home, ensuring the well-being and comfort of our patients. When it comes to your health, there's no place like home.
Our Patient Home Care Services are available throughout Coimbatore, Chennai, Tirupur, Erode, Trichy, Hosur, Madurai, Tirunelveli, Vellore, Pondicherry, Pollachi, Ooty, Theni, Dindigul, Thanjavur, Karur, Namakkal, Kerala (Palakkad, Ernakulam), and Karnataka (Bangalore).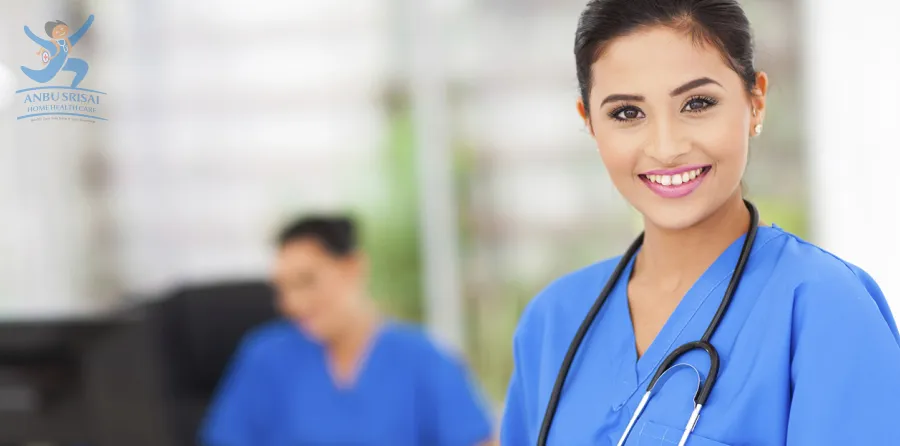 "Your well-being is our priority. Our Patient Home Care Services offer compassionate and professional healthcare within the comfort of your home, ensuring your recovery and comfort."
Why Choose Our Patient Home Care Services?
Compassionate Care: At the heart of our services is a team of dedicated healthcare professionals who provide not only medical care but also compassionate support. We understand that healing goes beyond treatments, and our team is here to provide comfort and companionship.
Expert Medical Care: Our skilled nurses and caregivers are highly trained to deliver expert medical care, including medication management, wound care, monitoring vital signs, and assisting with various medical procedures.
Personalized Care Plans: Every patient is unique, and we recognize that. Our healthcare team works closely with you and your healthcare provider to create personalized care plans tailored to your specific medical needs.
Comfort and Convenience: Home is where you're most comfortable. By receiving healthcare services in your home environment, you can enjoy both comfort and convenience while receiving the care you require.
Our Comprehensive Patient Home Care Services Include:
Medical Care: Our experienced team is proficient in a wide range of medical procedures to manage health conditions and promote recovery.
Medication Management: Ensuring that medications are administered correctly and on time, with a focus on patient safety.
Assistance with Daily Living: We provide help with activities of daily living, including bathing, dressing, meal preparation, and mobility assistance.
Wound Care: Expert wound care to aid in healing and prevent infections.
Companionship: Loneliness and isolation can impact well-being. Our caregivers offer companionship and emotional support to enhance mental health.
Experience compassionate and professional healthcare at home with Anbu Sri Sai Home Health Care. Contact us today at 78715 31777, 91597 66277, or 0422 2594777 to discuss your Patient Home Care needs and schedule a consultation.
Choose Anbu Sri Sai Home Health Care for healthcare that prioritizes your well-being and comfort.