Best Bedridden Patient Care in Coimbatore
Welcome to Anbu Sri Sai Home Health Care, your trusted provider of comprehensive Bedridden Patient Care Services in Coimbatore. Our mission is to offer specialized and compassionate care for individuals who are confined to their beds. We understand the unique challenges bedridden patients face and are dedicated to ensuring their comfort, well-being, and quality of life.
Our Bedridden Patient Care Services are available throughout Coimbatore, Chennai, Tirupur, Erode, Trichy, Hosur, Madurai, Tirunelveli, Vellore, Pondicherry, Pollachi, Ooty, Theni, Dindigul, Thanjavur, Karur, Namakkal, Kerala (Palakkad, Ernakulam), and Karnataka (Bangalore).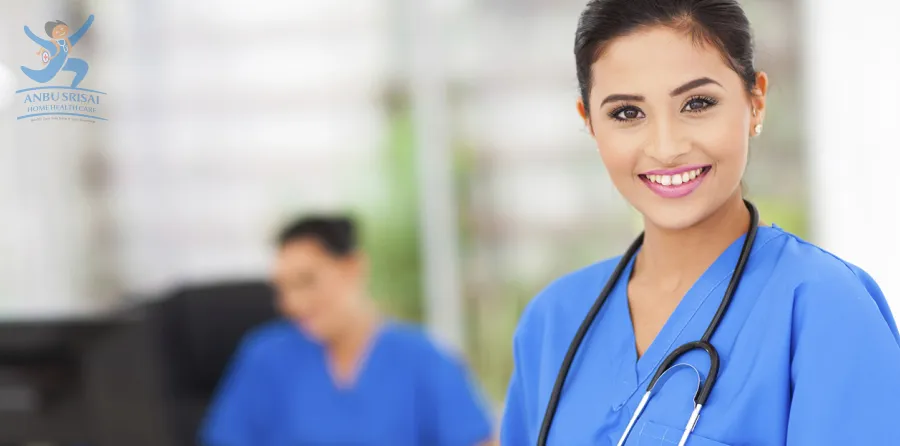 "For individuals confined to their beds, we provide specialized care with empathy. Our Bedridden Patient Care Services focus on comfort, well-being, and maintaining a high quality of life."
Why Choose Our Bedridden Patient Care Services?
Specialized Care: Our team of caregivers and nurses is specially trained to provide care to bedridden patients. We have the expertise to address their specific needs, ensuring optimal comfort and support.
Compassionate Approach: We understand that bedridden patients often require not only physical care but also emotional support. Our caregivers offer compassionate companionship, helping to alleviate feelings of isolation and loneliness.
Maintaining Dignity: We prioritize the dignity and respect of our patients. Our care is delivered in a manner that preserves their dignity and independence to the greatest extent possible.
Enhanced Comfort: Staying in the comfort of one's own bed can significantly improve the overall well-being of bedridden patients. Our services are designed to provide that comfort and convenience.
Our Comprehensive Bedridden Patient Care Services Include:
Assistance with Activities of Daily Living: Our caregivers assist with daily tasks such as bathing, dressing, grooming, and mobility assistance.
Positioning and Pressure Sore Prevention: Proper positioning and regular turning are essential for preventing pressure sores and ensuring patient comfort.
Medication Management: We ensure that medications are administered correctly and on schedule.
Nutrition Support: Our team helps with meal preparation and feeding as needed, ensuring proper nutrition and hydration.
Emotional Support: We understand the emotional challenges bedridden patients face and provide companionship and emotional support.
Discover compassionate and specialized care for bedridden patients with Anbu Sri Sai Home Health Care. Contact us today at 78715 31777, 91597 66277, or 0422 2594777 to discuss your Bedridden Patient Care needs and schedule a consultation.
Choose Anbu Sri Sai Home Health Care for patient-centered care that prioritizes comfort and well-being.