Best Home Visit Doctors Service in Coimbatore
Welcome to Anbu Sri Sai Home Health Care, your trusted source for expert Home Visit Doctors Services in Coimbatore. We understand the importance of accessible healthcare, and that's why we bring experienced physicians to your doorstep. Our mission is to provide expert medical care in the comfort and convenience of your home.
Our Home Visit Doctors Service is available throughout Coimbatore, Chennai, Tirupur, Erode, Trichy, Hosur, Madurai, Tirunelveli, Vellore, Pondicherry, Pollachi, Ooty, Theni, Dindigul, Thanjavur, Karur, Namakkal, Kerala (Palakkad, Ernakulam), and Karnataka (Bangalore).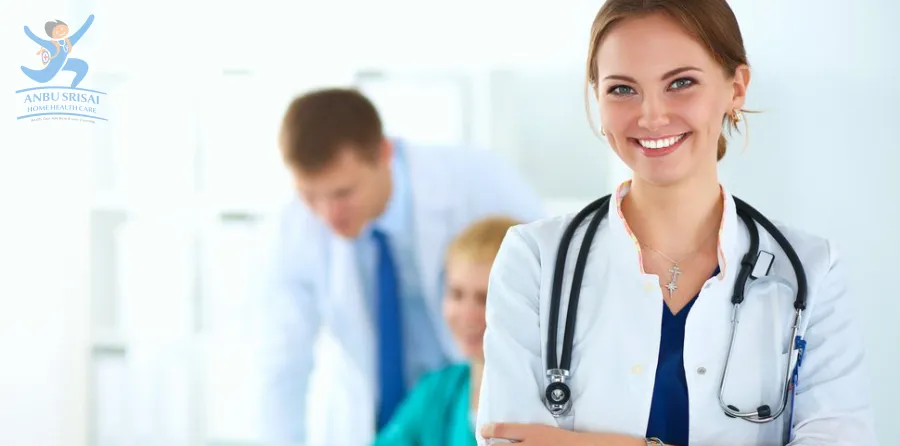 "No need to travel when you're not feeling well. Our Doctor @ Home service brings experienced physicians to your doorstep, providing expert medical care in the comfort of your home."
Why Choose Our Home Visit Doctors Service?
Expert Physicians: Our team comprises experienced and qualified physicians who specialize in home-based medical care. They are dedicated to addressing your health concerns and providing comprehensive medical assessments.
Convenience: Skip the hassle of traveling to a clinic or hospital. Our doctors come to you, making healthcare accessible and convenient, especially for those with mobility challenges.
Personalized Care: We believe in a patient-centered approach. Our doctors take the time to listen to your concerns, answer your questions, and create personalized treatment plans tailored to your needs.
Timely Care: When you need medical attention, we prioritize promptness. Our home visit doctors aim to provide timely care to address your health issues effectively.
Our Comprehensive Home Visit Doctors Services Include:
General Medical Consultations: Our physicians are equipped to diagnose and treat a wide range of medical conditions, from common illnesses to chronic diseases.
Medication Prescriptions: If necessary, our doctors can prescribe medications and provide guidance on their usage.
Health Assessments: We offer thorough health assessments, including vital sign monitoring and physical examinations.
Chronic Disease Management: Our doctors can help manage chronic conditions such as diabetes, hypertension, and more.
Palliative Care: For individuals with terminal illnesses, our compassionate doctors provide end-of-life care that focuses on comfort and dignity.
Experience the convenience and expertise of Home Visit Doctors with Anbu Sri Sai Home Health Care. To schedule a doctor's visit or inquire about our services, contact us today at 78715 31777, 91597 66277, or 0422 2594777.
Choose Anbu Sri Sai Home Health Care for professional medical care delivered to your doorstep.