Best Home Nurse and Nursing Services in Coimbatore
At Anbu Sri Sai Home Health Care, we take pride in offering professional Home Nurse and Nursing Services in Coimbatore. Our dedicated team of skilled nurses is committed to providing expert medical care and unwavering support within the comforting confines of your home.
Our Home Nurse and Nursing Services are available not only in Coimbatore but also in Chennai, Tirupur, Erode, Trichy, Hosur, Madurai, Tirunelveli, Vellore, Pondicherry, Pollachi, Ooty, Theni, Dindigul, Thanjavur, Karur, Namakkal, Kerala (Palakkad, Ernakulam), and Karnataka (Bangalore).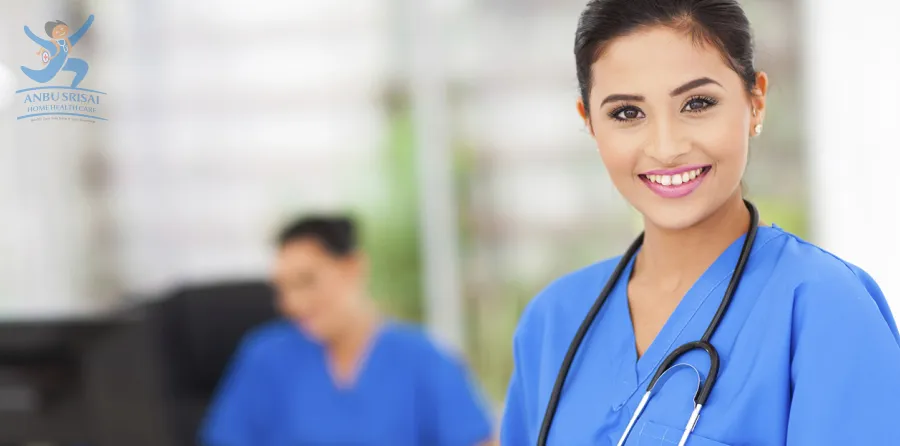 "Experience the comfort of expert healthcare right in your home. Our dedicated Home Nurse Service ensures personalized care, 24/7 support, and professional medical assistance where you need it the most."
Why Choose Our Home Nurse and Nursing Services?
Professional Care: Our nurses are not just caregivers; they are highly trained and certified professionals capable of handling various medical procedures and treatments. Whether it's wound care, injections, catheter management, or medication administration, you can trust in their expertise.
Personalized Care Plans: We recognize that every patient has unique medical needs. That's why we work closely with you and your healthcare provider to create a personalized care plan that caters to your specific requirements.
Compassion and Comfort: Beyond their medical skills, our nurses provide something equally important—empathy and companionship. We understand the emotional challenges that often accompany illness or injury, and our nurses are there to provide the care and comfort you deserve.
Safety and Convenience: Home Nursing eliminates the need for extended hospital stays, reducing the risk of infections and promoting a sense of comfort and familiarity. You can receive top-notch medical attention without leaving the comfort of your home.
Our Comprehensive Home Nurse and Nursing Services Services Include:
Medical Care: Our skilled nurses are proficient in a wide range of medical procedures, ensuring that you receive expert care in your home environment.
Medication Management: We prioritize patient safety by managing medication schedules, administering medications, and monitoring their effects.
Postoperative Care: For those recovering from surgery, our specialized care aids in a smoother and faster recovery process.
Chronic Disease Management: We provide ongoing support and monitoring for individuals managing chronic conditions like diabetes, hypertension, and more.
Palliative Care: In times of terminal illness, our compassionate end-of-life care focuses on enhancing comfort and preserving dignity.
Experience the comfort of expert medical care at home with Anbu Sri Sai Home Health Care's Home Nurse and Nursing Services. To inquire about our services, request a consultation, or discuss your specific healthcare needs, contact us today at 78715 31777, 91597 66277, or 0422 2594777.
Choose Anbu Sri Sai Home Health Care for compassionate and professional home nursing services that prioritize your well-being and comfort.